The Gamma Industries product range is the result of over 60 years of expertise in innovation, continuous improvement and astute design, often scarcely visible to the naked eye.
This product line is designed both to facilitate and optimise the installation of raised floors, and to achieve the quality results expected by our customers.
Our products have been developed in compliance with European standard EN 12825, and can be used to design raised flooring for any configuration required by our customers.
Choosing the right product for the right application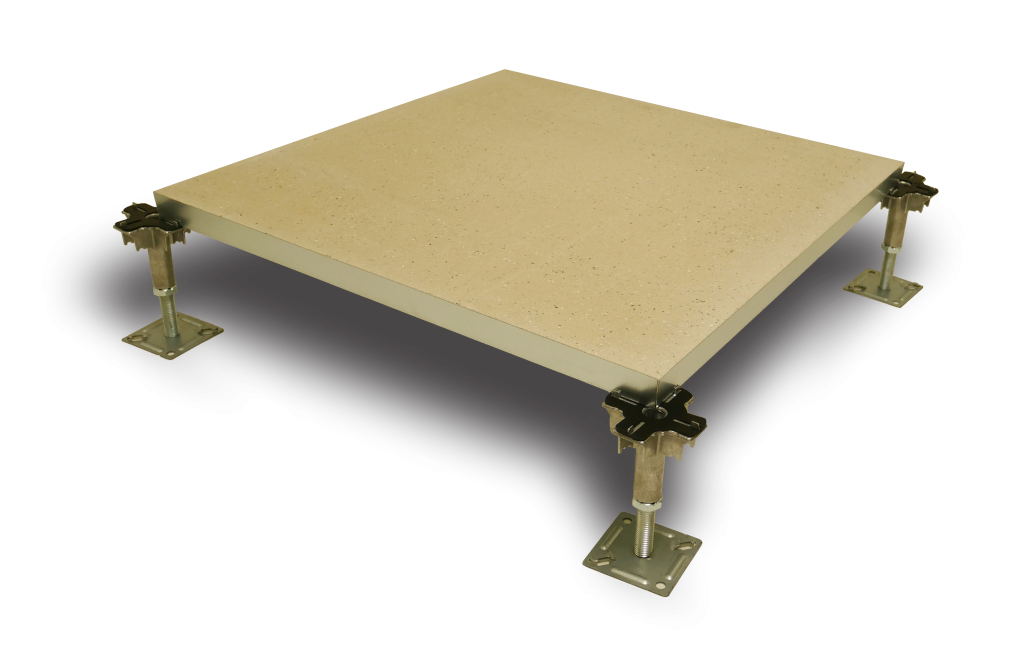 The following main criteria combined will determine the choice of raised flooring products:
LOAD: the maximum permissible load also determines the type of mounting, self-supporting or with stringers:

It determines the composition, density, and thickness of the panels (19, 30 or 38 mm), as well as the diameter of the cylinders 18 or 26 mm

). The

load table

indicates which panel/pedestal meets the required load-bearing capacity. From standard office applications (1A) to technical rooms and data centres (6A),

standard EN 12825

specifies the characteristics and related requirements applicable to raised floors.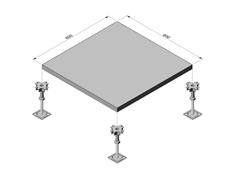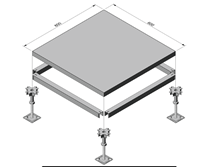 FIRE: In some countries, local legislation imposes incombustible materials (M0), particularly for high-rise buildings. In these instances, calcium sulphate (mineral) panels are used. In other cases, combustible and non-flammable chipboard panels (M1) are generally used.
HEIGHT: Beyond the 500mm plenum, a support structure with pedestals and stringers is required to ensure the stability of the floor. When a low height is required (particularly when renovating old buildings), 19 mm panels (BUROBOX 19 or MINIGAM) and low-height pedestals can be used.
FINISHES: Our floor panels can be delivered bare, so that the customer can free-lay their own finish (BUROBOX panels); or the panels can be supplied with a factory bonded finish (GAMMAPAC and GAMMABOX panels).
CONDUCTIVITY: The electrical conductivity (antistatic, dissipative, conductive) determines the type of finish (PVC, etc.) and the type of panel required (conductive GAMMABOX panel).
AIR:

Ensuring air quality and circulation (clean rooms, laboratories, etc.) require the use of non-brittle aluminium panels (

ALUCAST

panels) which can be perforated depending on the

airflow

requirements

.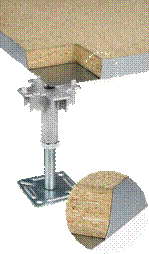 Multi-purpose panel designed mainly for offices (services sector) and establishments open to the public
The finish is laid using a free-lay technique, after the panels have been installed on site.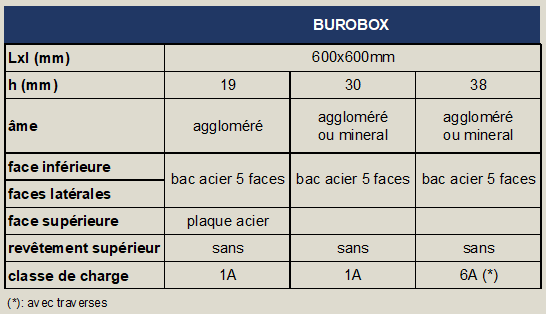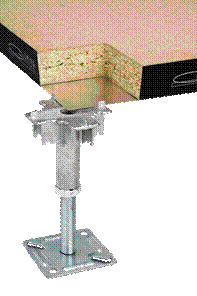 Panels designed for offices (services sector), data centres, industrial facilities and establishments open to the public.
The panels are generally delivered with a factory bonded finish.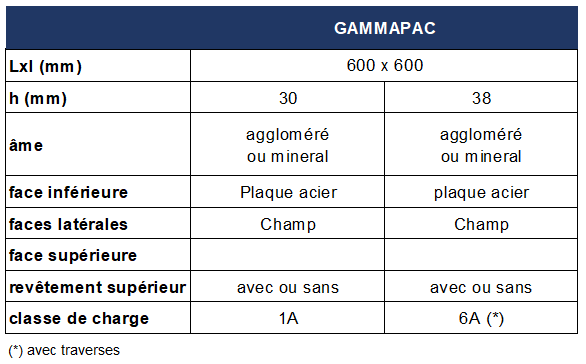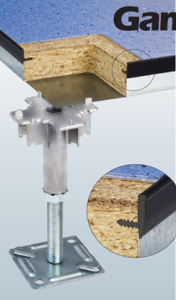 Panels designed for offices (services sector), data centres, industrial facilities and establishments open to the public.
The panels are generally delivered with a factory bonded finish.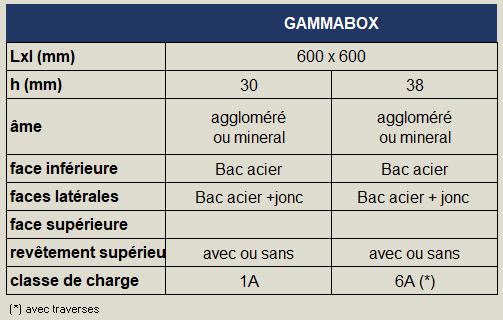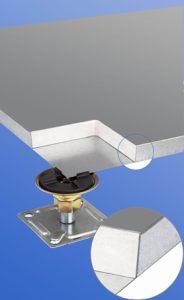 Thin mineral panels (M0) designed for high-rise buildings, mainly offices, where the aim is to minimise the height of the plenum.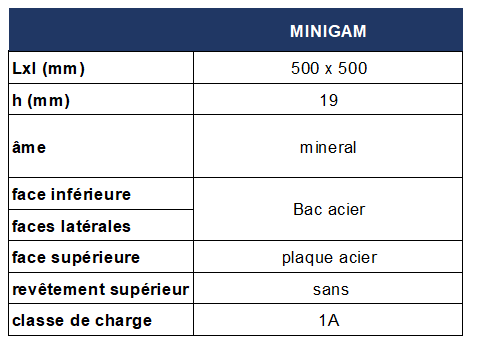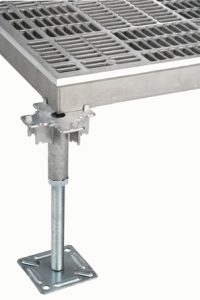 Panels designed for data centres, clean rooms and industrial facilities
The panel may plain or perforated, depending on the airflow requirements.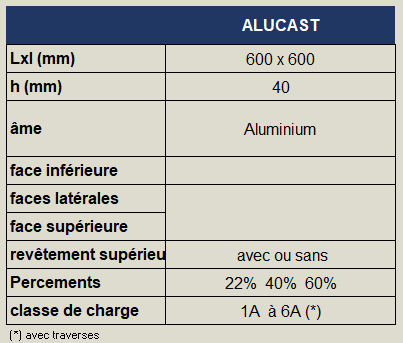 Special application panels
We produce taylor-made panels to suit the specific requirements of your project:
Core: choice of material (wood / mineral / aluminium / etc.)
Underside surface: galvanised steel tray / steel sheet / aluminium foil
Side surface: galvanised steel tray / PVC/aluminium trim / edging
Upper surface: untreated / steel sheet / aluminium foil
Finish: choice of all types
Gamma Industries' panels are mounted on pedestals which raise them above ground level to create a plenum of a specific height. These pedestals consist of:
a galvanised steel base
a steel shaft welded to the base
an aluminium or steel pedestal head
a locking nut for adjusting the height
a cushioning pad on the pedestal head

Installation:
The pedestals are bonded to the ground using a special adhesive or may be mechanically fixed (seismic zone).
When the base sits on a steel structure, it can be welded to that structure.
The base of the pedestal features a ridge, allowing for the quick fixation of an earthing strap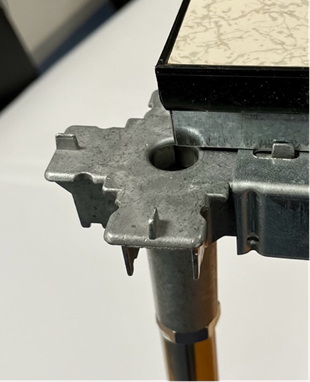 The shaft is a threaded galvanised steel column with a diameter of 18 mm.
The head of the pedestal allows for the height to be adjusted by +/- 20 mm
The upper part of the pedestal head has stops that block the panels horizontally
The pedestal is designed to be fitted with 30/15 or 45/15 lockable stringers, where necessary.
The standard pedestal is manufactured at our factory and its height can be adjusted by 10 mm increments (depending on the plenum height required for your project).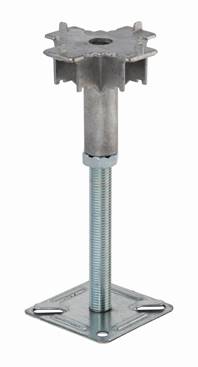 Pedestals for shallow installations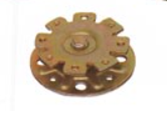 Used for plenums of limited height, where the aim is to maximise the ceiling height:
The threaded head acts as a height adjustment nut and allows for a variation of +/- 7 mm
These pedestals allow for a finished height ranging between 18 mm and 71 mm (18 to 26 mm, 32 to 49 mm, 46 to 71 mm).
Pedestals for high installations
These pedestals can be used to create high plenums in order to accommodate heavy loads.
The shaft is a round galvanised steel column welded to the base of the pedestal.
The head is welded to a 26 mm threaded column, and features a height adjustment nut with a range of +/- 20 mm.
Depending on the configuration, the head is stamped or flat to receive and mechanically fix sleepers.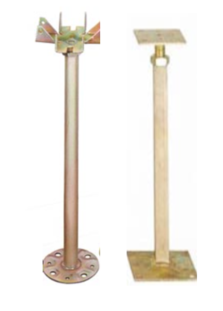 Assemblies with stringers ensure that the entire surface of the raised floor panels is supported lengthways, while freestanding assemblies support the panels at all four corners.
Bridging profiles and stringers can be used to support raised floor panels where it is not possible to install pedestals in the centre (due to the presence of large conduits, ducts, cable trays, etc.).
If the plenum is high enough, the pedestals can be placed on these bridging profiles.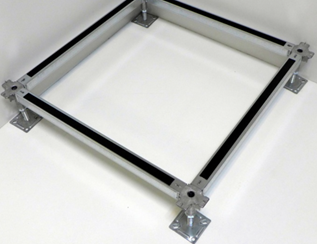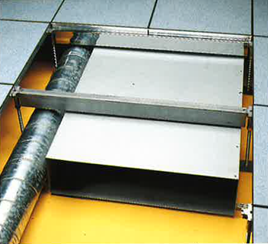 Standard clip-on stringers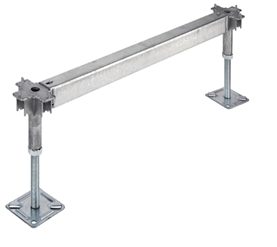 These stringers consist of a U-shaped bar made of galvanised steel, of variable depth and thickness depending on the load performance required.
Oblong holes are drilled at each end of the stringer, and notched recesses on each side allow them to be fitted/clipped onto standard pedestal heads.
Dimensions: 30/35/30 mm, thickness 1.5 mm – type 30/15
Dimensions: 45/35/45 mm, thickness 1.5 mm – type 45/15
These stringers consist of a U-shaped bar made of galvanised steel, with a reinforced lip at the bottom.
They can be screwed onto the head of high-plenum pedestals
Dimensions: 50/40/50 mm, thickness 2 mm – type GAMMA DC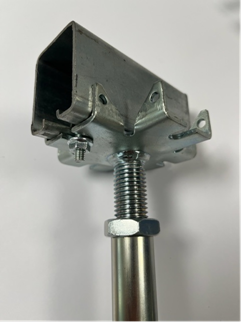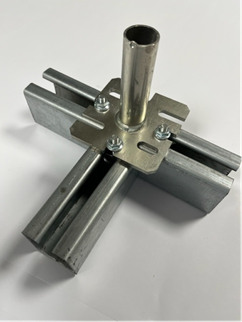 Support frames are made up of pedestals and stringers; the panels are positioned on these stringers. This type of assembly is required for:
raised floors with significant concentrated or distributed loads
floors with a finished height of over 500 mm
insulated raised floors, not surrounded by walls, and designed to support loads that are frequently displaced.
This is the case in the majority of DATA CENTRES and technical rooms.
Depending on the mechanical stress characteristics of the project, we will opt for:
either a standard assembly, using 30/15 or 45/15 stringers to match the size of the panels (600 x 600), in which case we will use standard pedestal heads; or
Or a "windmill" assembly with stringers running across 2 (or more) panels. The pedestal heads used will be high-plenum pedestals.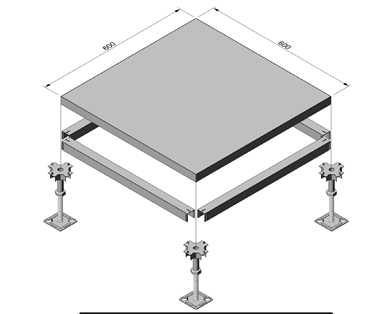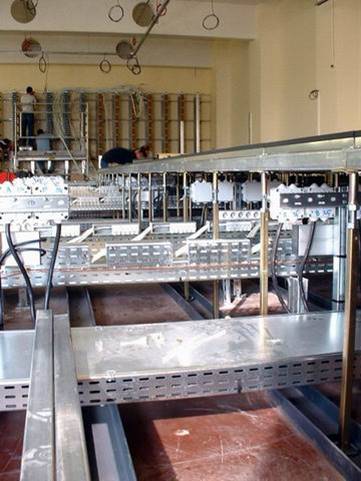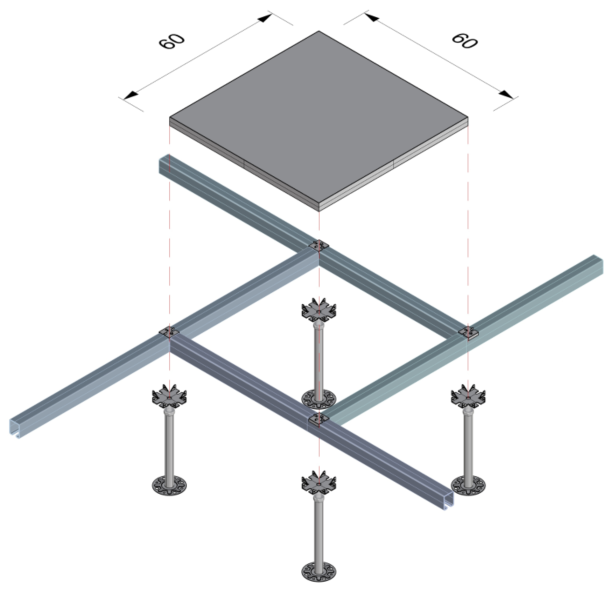 Accessories and components
If the raised floor is not aligned with the adjacent areas, access is provided by means of ramps.
The connection between the top of the ramp and the raised floor is covered with a stainless steel profile. The ramp nosing consists of a robust extruded aluminium profile.
If the ramp is built into the floor, the wooden side risers are used to seal it off. They are made of melamine board and are crowned with an aluminium stair nosing. The ramp is generally covered in a non-slip rubber finish.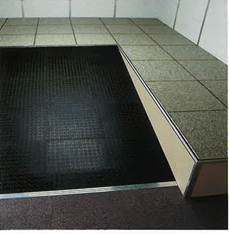 The steps and risers are made of melamine board.
The top edging is protected by an aluminium stair nosing.
The same approach is adopted when the raised floor is not laid against a partition wall.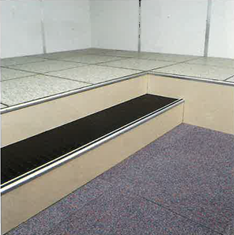 Partitioning of the plenum to enhance fire resistance
These partitions are used to compartmentalise the plenum.
They are fixed to the floor and made of incombustible materials.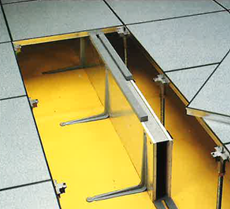 These partitions can be used as duct walls to create separate airflow channels. Their design varies depending on the available height.
They are fixed to the floor and made of folded galvanised sheet metal.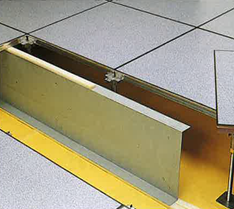 Smooth-finish panels can be lifted using a double suction cup.
Textile-finish panels can be lifted with a clamping device.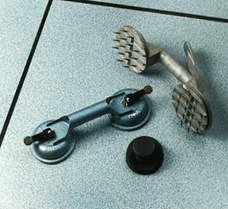 Cable entry panels allow cables to be routed from the plenum to the floor surface.
They are cut in our factory and fitted with a brush grommet.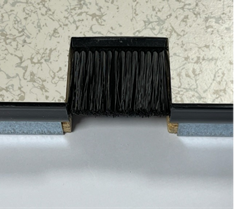 Gamma Industries offers a standard range of laminate finishes to suit different raised floor configurations. These coverings are applied directly at our factory.
PVC or carpet coatings are also commonly requested by our customers.
Nevertheless, the customer may choose a finish from a host of other manufacturers in order to meet their interior design requirements.
Gamma Industries has partnerships with all the covering manufacturers, so you can customise your choice.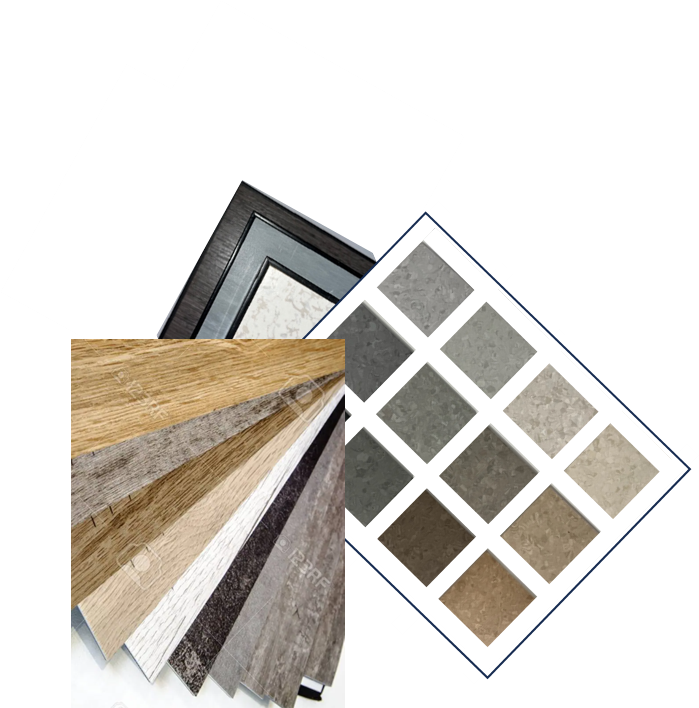 These panels are suitable for 95% of applications: the wood is a high-density chipboard made from 100% recycled wood. It is classified as a P6 wood according to standard EN 312 (heavy duty load-bearing boards for use in dry conditions). Rated M1 in terms of flammability (non-flammable), wood-based panels offer the most cost-effective solution, thanks to their technical characteristics, versatility and ease of use.
Mineral-based panels (calcium sulphate)
Classified M0 (incombustible and non-flammable), they are used in high-rise buildings where incombustibility is essential.
These are technical panels used:
in controlled atmospheres (dust-free, clean rooms, laboratories, etc.)
and/or industrial environments (oil rigs, production sites, etc.),
and/or where air circulation is required between the plenum and the room (aluminium panels can be solid or perforated, depending on the desired air flow),
and/or for rooms with non-magnetic requirements.
All of these panels can be supplied with or without a finish, depending on the requirements of each project.
Gamma Industries' solutions comply with standard EN 12825
Latest news about our products